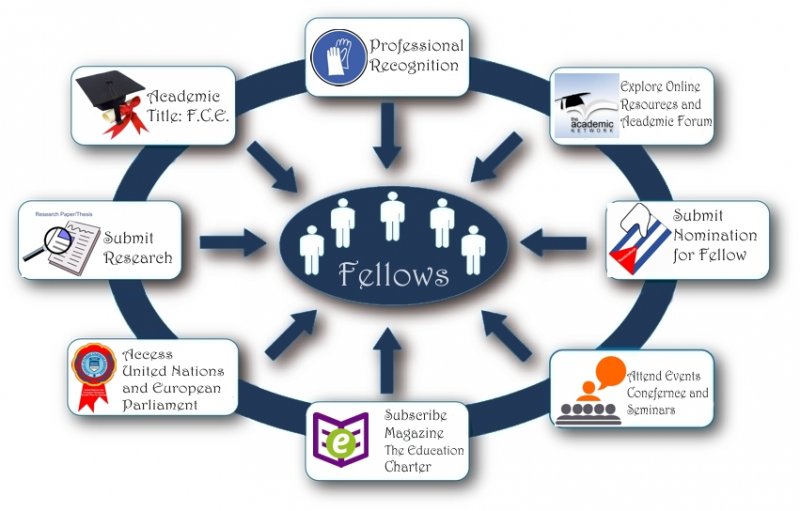 The Fellow of Academic Council shall be enjoying following privileges
Selection of Fellow is professional recognition in his or her respective field.
Fellows are entitled to use the title Fellow Chartered Educator in full or FCE in short at the end of their name
Fellows are preferred to submit their research papers/ analysis in the publication of CCLP Worldwide.
Fellows can attend UN meetings as CCLPW representatives: our UN ECOSOC consultative status allows us to register designated members for UN events, and provide passes to visit UN libraries and facilities;(Only Short term passes will be issued subject to availability and as per rules laid down by United Nations.
Fellows receive e-copy of International quarterly Magazine "The Education Charter".
The fellowship is an addition to Academic qualification.
Fellows are entitled to use the facilities of Members of CCLP Worldwide except for voting rights.
Fellows are encouraged to explore the online resources of CCLP Worldwide site at https://cclpworldwide.com
Fellows are encouraged to nominate a candidate for the fellowship.
Fellows are invited to attend a range of conferences, seminars and events of CCLP Worldwide and its affiliate institutions.
CCLP Worldwide popularly known as the International organization of Education Charter is engaged in promoting
Higher education,
Importance of higher education for better livelihood
Education for all
Education for sustainable development
Education for a better life
Education for equality
Education for international understanding
Youth for understanding,
Necessary reforms in higher education institutions
Status of higher education in developing and under-developing nations
Education and training
United Nations sustainable development goals,
to make necessary awareness for sustainable development define, sustainable development definition, 
Education for sustainable development
Code of ethics in education
Total Page Visits: 3850 - Today Page Visits: 1