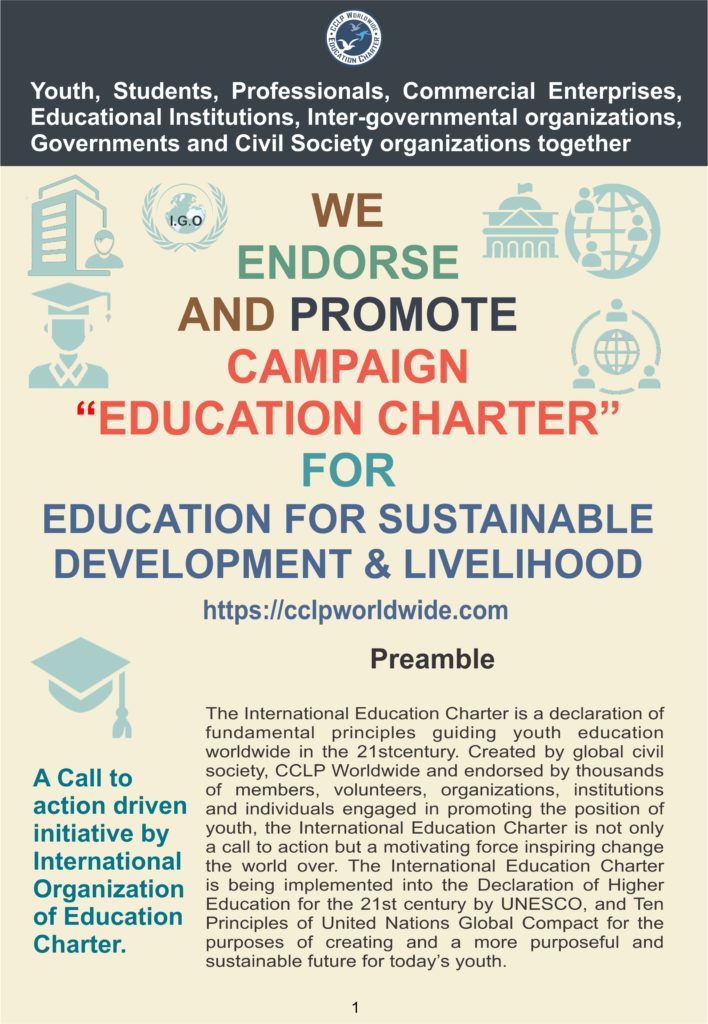 Contents of Education Charter International
1. Higher Education For sustainable better livelihood
2. UNESCO Declaration of Higher Education for Twenty-First Century
3. UN Global Compact Ten principles
Evolution of Education Charter
Download Education Charter International
Flow Charter Presentation of Education Charter International
Global Initiative for Charter
Programs covered under Education Charter International
Action Guidelines
Activity
Campaign for Education Charter International
Supporters of Education Charter International
Global Initiative
About the International Initiative
The Education Charter Initiative is the collective name for the diverse, global network of people, organizations, and institutions who participate in promoting the Education Charter, and in implementing its principles in practice.
The Initiative is a broad-based, voluntary, civil society effort, but participants include leading international institutions, national government agencies, university associations, NGOs, cities, faith groups, and many well-known leaders in sustainable development. Most participants in the Initiative are also formal Endorsers of the Education Charter. Click here to endorse the Education Charter
A formal network of International Head Quarter, National and regional Chapter and volunteers help to promote the Education Charter around the world. Many of these representatives are based in prominent national-level organizations and institutions. The Initiative is led by an International Board of Governors and ambassadors and served and coordinated by a very efficient team of International Secretariat, working in Centers located in Kolkata, India together with the office of ambassadors worldwide.
We are pleased to present the newly revised and comprehensive Education Charter Virtual Library. Here you will find a remarkable database of Education Charter and of Education for Sustainable Development related resources in digital format is available here and may be downloaded free of charge and used and distributed as needed.
We encourage the members, endorsers and to send any additional Education Charter related resources developed by you or your organization to: info@cclpworldwide.com
Key Resources
1. Education Charter International text (Umbrella Statement of Vision, values and Guiding principles)
2. Education Charter Booklet
3. Education Charter- Code Of Ethics
4. Education Charter & UNESCO Declaration of Higher Education for twenty-first Century
5. Education Charter and UN Global Compact Ten Principles
6. Education Charter and Declaration of Higher Education for sustainable better livelihood
7. Sample copy of Invitation for endorsement
8. Education Charter International Presentation in power point form ( may be used for presentation, seminar and conference) New
9 Education Charter International and Graphical Presentation
10. New Pathways for Ambassadorial Appointees (newly launched)
11. Education Charter (Second Edition)
12 Education Charter Textual Document
14 "Updated Charter of the Organisation
15 New Book on Livelihood by Dr Vikrant Singh
17 Download the Ambassador program
18 The education Charter third edition
19 The Education Charter Fourth Edition
CCLP Worldwide popularly known as the International organization of Education Charter is engaged in promoting
Higher education,
Importance of higher education for better livelihood
Education for all
Education for sustainable development
Education for a better life
Education for equality
Education for international understanding
Youth for understanding,
Necessary reforms in higher education institutions
Status of higher education in developing and under-developing nations
Education and training
United Nations sustainable development goals,
to make necessary awareness for sustainable development define, sustainable development definition,
Education for sustainable development
Code of ethics in education
Total Page Visits: 4747 - Today Page Visits: 3